For the 15th time the EMGS Consortium has awarded the prizes for the "Best EMGS Graduate" as well as the "Best EMGS Master Thesis" during the Graduation Ceremony in Leipzig.
In 2022 two students, graduated with an average grade of 1.0 ("excellent" according to the German grading system). Taking into that the students studied at least two different universities within two years the 1.0 is a very great achievement and shows the high merit of these five students. The prize for the "Best EMGS Graduate 2022" was awarded to Hannah Matheis and Anna Katharina Osterlow.
Two theses have been nominated for the prize for the "Best EMGS Master Thesis 2022". A jury consisting of six Professors representing Ghent, Leipzig, LSE, Roskilde, Wroclaw and Vienna selected the following Awardees:
Best Master thesis (tied): Rasmus Göthberg – "Diplomats' making of Mali as a space of intervention" AND David Beer – "The City Football Group: Towards an 'imagined community' of multi-fans?"
3rd prize: Anna Katharina Osterlow – "Imagining technological futures: Transnational feminist tech and data activism as a counter-dynamic in global processes of digitalisation"
The EMGS Consortium warmly congratulates all EMGS Laureates!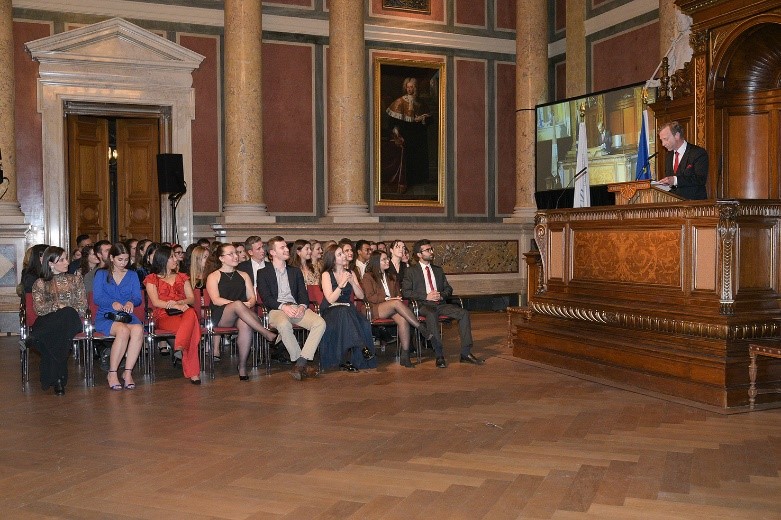 Laudation by Prof. Dr. Klaas Dykmann for the EMGS Laureates © fotomeile.eu